Raise your hand if you're a stress eater? You can't see me, but you better believe my hand is raised. If yours is too, solidarity, sister.
For many of us, when we feel that ever-common sense of anxiety creep in, we head to the fridge or cupboard and reach for the comfort foods -- sweet, salty, savory, pick your poison.
We all know that our stress eating causes unwanted effects like weight gain, bloating and regret, but it almost seems uncontrollable sometimes. Here's the thing, your hormones play a major role in your food cravings and overall feelings of hunger - so cut yourself some slack, it's not all your fault!
If you're looking for a way to curb that desire to eat when you're stressed, bored, or seemingly for no reason at all, Skinny Bird from HUM Nutrition may be a great option for you. Let's explore.
Ps. I reached out to HUM and they gave me an exclusive HUM Nutrition discount code for my readers. Click here and enter the code "FITMOMMA" at checkout for $10 off your first order of $29+!
What is HUM Nutrition Skinny Bird?
Skinny Bird is an all-natural weight-loss supplement for women that's designed to:
Reduce stress eating
Curb cravings naturally
Balance your blood sugar levels
Boost your metabolism
Sounds great, right? But with all the "get skinny quick" gimmicks and ploys out there, it's easy to feel dubious. After all, the last thing you want to do is waste your time and money while sacrificing your health for a supplement that flat out doesn't work.

This is EXACTLY why we love HUM Nutrition. The team at Fit Healthy Momma has been using their supplements for months now and are loving them. We especially love their Private Party probiotic for vaginal health and their Flatter Me digestive enzyme, too.

In fact, their entire line is something that we can proudly put our seal of approval on because they are all-natural with zero additives, chemicals, and other unsavory ingredients. I don't know about you, but I'm much more likely to check out a supplement if I know that all the ingredients are completely safe and natural.
What's In Skinny Bird HUM Nutrition?
When it comes to weight loss, it seems like we've seen it all and heard it all and most of the time, let's be honest - it's a bunch of crap.
HUM Nutrition, however, seems to have nailed it on the head with their Skinny Bird weight loss supplement. They combine a powerful and effective mixture of a few KEY pieces to the moderate weight-loss puzzle.
Keep in mind that this is not a miracle pill! HUM doesn't claim it to be and neither do we. However, research has shown that the ingredients in this supplement allows you to maintain your energy and blood sugar levels throughout the day without that shaky, jittery feeling that you get with other weight loss supplements.
Here's What's Inside:
5-HTP: This element is what's responsible for controlling your serotonin (the "feel-good" hormone) levels. There are studies that show that 5-HTP can help to reduce caloric intake and work as an antidepressant. Bye, bye stress cravings!
Green Tea Extract: Green tea extract works to boost your metabolism, burn unwanted fat, and help maintain energy levels throughout the day. It also has anti-angiogenic properties that work to prevent obesity.
Caralluma Fimbriata: This element works to curb your appetite by communicating directly with the appetite control center of your brain. The result is reduced cravings and reduced hunger.
Chromium: This last ingredient helps to stabilize your blood sugar levels and reduce cravings, all without dangerous spikes in energy or crashes.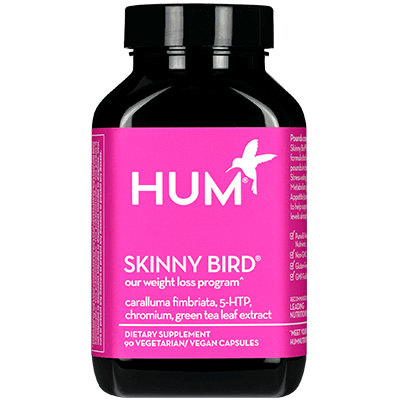 Skinny Bird Appetite Suppressant
from:
HUM Nutrition
How Does This Supplement Work?
This supplement works by interacting with your hypothalamus to stimulate the production of extra serotonin. Serotonin has been proven to be one of the main hormones that regulate feelings of hunger.
When our serotonin levels are decreased, we see an increased appetite and food cravings. Skinny Bird works to naturally stimulate your body's production of this hormone, thereby suppressing your appetite and calorie intake.
By taking HUM's weight loss supplement three times per day with your meals, you should see faster satiety and decreased calorie intake within 2-12 weeks.
I personally have been taking this supplement for just over two weeks now and can tell you first-hand that I am definitely reaching for my favorite snacks and treats a bit less which is so refreshing as a stay-at-home mom who seems to be surrounded by temptation!
Is HUM Skinny Bird Safe?
Yes! All of the ingredients are completely natural and do not pose any serious side effects. That said, you should always consult with your physician before starting any new supplements, especially if you're taking other medications and supplements to makes sure there aren't any contraindications.
Real Skinny Bird Reviews
Take a look at what some Skinny Bird users are saying about this supplement:
"Absolutely love this, has helped me curb my appetite and brought down the stress eating."
"LOVE Skinny Bird!! I started using it about 3 weeks ago and immediately noticed a difference in my eating habits. I feel more satisfied with my meals and have seen a reduction in my snacking and over-eating, and as a result a reduction in my tummy. for now I don't think I have lost much weight as a lot of my concern right now is bloating and overeating but I have definitely noticed a difference in my eating habits. Cannot wait to see the results Ill have further down the line!"
"I'm on my second bottle of Skinny Bird and here's my honest review. In the first month I started taking Skinny Bird, Gut Instinct and Flatter Me. I don't know what was happening but I really did feel FLATTER. I have an office job that allows me to easily sit and snack ALL DAY so Skinny Bird definitely curbs my snacking and I even realized I was no longer eating my breakfast NOR was I using caffeine to get me thru to lunch time. So as a nice side effect, I've cut way down on soda (i'm not a coffee drinker, so i will drink a diet soda for some caffeine)-I can go days with none at all now and am hoping to cut it out completely. I typically drop 2 pounds during the week but I kinda sorta gain it all back over the weekend-I live in New Orleans, it's TOUGH! But now in my second month I've started working out again and I can't wait to see what I can accomplish. I'm still taking all 3 but have also added Daily Cleanse. I'm very happy with my HUM subscription!"
The Bottom Line
After doing all the research and taking this supplement for ourselves, we can proudly put the Fit Healthy Momma stamp of approval on HUM's Skinny Bird.
We're all about maintaining a healthy and active lifestyle and this supplement can help give you the physical and mental boost you need to keep going. No more derailing your fitness and nutrition goals with regret-worthy binges!
HUM Nutrition offers a complete line of natural supplements designed to help women live a healthier life. From anti-aging formulas to supplements for your hair and nails, you can find a whole wealth of health and wellness for women with this brand.
They even offer a wellness quiz to help get you started on your supplement journey. It's free to take and will only take you a couple of minutes. Check the quiz out here.
And we secured a $10 off coupon for our visitors! Use the code HUM10 to get $10 off your first order and free shipping on orders over $50. Be sure to click this link and then enter the code at checkout to claim your coupon!
Be well, friends!
Don't forget to click on the product or button below and then enter code "HUM10" and be sure to check out their full line of clean, natural health supplements for women!