Raise your hand if you want to live a healthier lifestyle. I'm pretty sure all our hands just shot up…
Experts estimate that we are exposed to more than 700,000 different toxins on a daily basis. And that estimate doesn't even include the GMOs that are common in the foods we consume. Kind of scary, right?
So how do we combat these toxins? For starters, you can do your best to eat a clean, nutritious diet that's free of toxins. You can also try taking a supplement that's designed to help cleanse your body.
HUM Nutrition, my personal favorite women's supplement brand, has a formula that's designed specifically to help you clear the toxins from your body and improve your skin and complexion.
Interested in learning more? Here's my complete
HUM Daily Cleanse
review based on my personal experience and research.
What Is Daily Cleanse?
Daily Cleanse from HUM Nutrition is a unique, skin clearing, body cleansing supplement designed to help women flush out the bad and absorb more of the good.
The main ingredient is Chlorella Algae, a highly potent superfood. Chlorella has 9 essential amino acids, vitamins, minerals, and is also packed with protein. Additionally, there's research that shows that Chlorella can naturally boost the body's immune system and fight disease - and with all the craziness in the world today, who doesn't want to fight off the stuff that's making us sick?
Another ingredient is red clover, which has been shown to support menopausal women thanks to its rich supply of isoflavones, chemicals that are found in plants, and have similar properties to estrogen. This plant has also been used in medicine to purify the blood and cleanse the body.
Lastly, Alpha Lipoic Acid (ALA) is a compound in the body that protects it from oxidative stress and contributes to keeping our cells functioning properly. It helps with both cell protection and energy production.
Full Ingredient List
Aside from the three main powerhouses that we listed for this product, it also contains the following all-natural, organic ingredients:
I love how everything here is completely natural and is proven to have a myriad of benefits for the body. HUM really does a fantastic job creating these super-powered supplements.
How Does It Work?
First, I want to mention that the founders and creators at HUM are female registered dieticians who are highly trained and super passionate about women's health and wellness. They understand women and their unique health and beauty goals, allowing them to design products that help us look and feel our best.
If you choose to complete their quiz, you'll actually be matched with a personal nutritionist that will not only analyze your answers but will help guide you through the entire process, explaining everything in detail along the way. This is one of the many reasons why I'm a loyal HUM user, I was matched with Jessica and have spoken with her several times about my nutritional goals.
Back to how Daily Cleanse works...the nutritionists at HUM combined some of the world's greatest botanical ingredients to create a super-supplement that's designed to detox your body from deep inside. They all work together to clear your skin, liver, kidneys, lungs, bowels, and lymphatic system.
It's safe for vegetarians and vegans and is: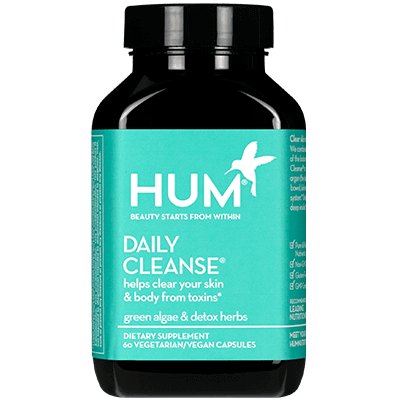 Daily Cleanse - Clear Skin Supplement
Who Can Benefit?
Since we're all exposed to thousands of known and unknown toxins on a daily basis, we can all benefit from a supplement that's designed to get rid of them. However, the biggest benefit of this formula is its ability to help clear acne and problem skin.
Whether you have chronic acne or get breakouts around your time of the month, Daily Cleanse will help combat those breakouts and minimize or eliminate them completely. It also helps those who struggle with constipation or irregular bowel movements to see relief.
FAQs
To decide if this product may be a good choice for you, take a look at these FAQs for more information.
Q: Are there any side effects?
A: Since this is a completely natural supplement, made from products found in nature or naturally in our own bodies, there are very few side effects, if any. Some users report having loose stools or diarrhea and others report bloating. As with any new supplement, you should always consult with your doctor before taking it and remember that there's an adjustment period for your body, so side effects may be present for the first few days or a couple of weeks and then wane as your body gets used to it.
Q: Is it safe?
A: Yes, as long as you take it as prescribed and speak with your doctor first about any other medications you're taking or medical conditions you may have.
Q: How long does it take to work?
According to a survey by HUM from Daily Cleanse customers, 80% of people who took this for at least 3 months say improved skin. 43% reported improved feelings of well being and self-confidence, and 44% said that it's helped them to lead an overall healthier lifestyle.
Q: Does HUM Daily Cleanse make you poop?
A: Yes, it might. Since this supplement is working to rid your body of toxins and the body's natural way to do that is through excrement, yes, you can expect to produce more bowel movements. This is great news for anyone that struggles with constipation or irregularity.
Q: How much does it cost?
A: I find this brand to be one of the more affordable women's health supplement brands out there. You can get a 30-day supply for just $25. Or, you can bundle and save. You can buy any 3 products and save 15%. You can also get $10 off your first order by using my code "
FITMOMMA10
" at checkout! Shipping is free for orders over $50.
Check Out These Other HUM Nutrition Supplements!
If you haven't taken the quiz yet, I highly recommend doing so so that you can get personalized recommendations for your body and goals. But if you may also like the following options:
Whatever you choose, don't forget to use my exclusive HUM coupon code at checkout to get $10 off your first order! Use code "FITMOMMA10" to claim your coupon and be sure to stop back and leave me a comment if you tried and loved this product!
Try Daily Cleanse Today!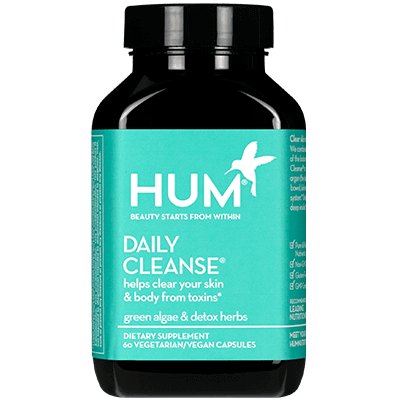 Daily Cleanse - Clear Skin Supplement - $25.00
from:
HUM Nutrition
Don't forget to click on the product or button below and then enter code "FITMOMMA10" and be sure to check out their full line of clean, natural health supplements for women!