Could probiotics be the answer to all your burning (no pun intended) vaginal problems?
Alright, ladies, by now you know that the team here at Fit Healthy Momma is all about giving you the real scoop on real products and programs that can help you achieve your optimal health, and that includes vaginal health.
While talking about your vagina and any problems you may be experiencing down there may feel uncomfortable, the truth is we all should be taking care of our bodies and that includes our vagina.
So whether you're currently experiencing an issue or you simply want to find the right product to keep your body in homeostasis, we're talking about the best probiotic for vaginal health and why it should be on your daily supplement list.
Ps. I reached out to HUM and they provided me with an exclusive discount code for my reader. Click here and enter the code "FITMOMMA" at checkout to get $10 off your first order of $29+!
Finding the Best Female Probiotic
You may already know that probiotics can play a major role in your overall wellness. In fact, it seems like we're constantly hearing about how effectively they can help promote optimal gut health. But did you know that probiotics can also help promote optimal vaginal health?
It's true! Probiotics are wonderful for so many things, including the health of our vaginas. We dug in to see what kind of products were available out there for women struggling with yeast infections, BV, and other imbalance problems and one product stood towering above the rest, HUM Nutrition's Private Party.
This product is hands-down the best, most targeted probiotic for your vagina on the market. And it's made from a team of experts who are on a mission to find the best supplements for women.
Sign up to get your free guide to my Vaginal Health eBook sent straight to your inbox.
What Are Probiotics?
Maybe you've been hearing all the hype about probiotics but you aren't totally sure what the heck they are. No worries, we'll explain.
Probiotics are the good bacteria that are normally found in your body and are vital for keeping your gut, or GI system, in check. Aside from gut health, they also make a positive impact on everything from your muscle strength to your mood.
We're all born with tons of these bacteria, but certain factors can cause our levels to decrease. Things like a poor diet and taking antibiotics can reduce your levels. When you have less of the good bacteria inside your body, you begin to experience side effects that are less than desirable like constipation, weight gain, and breakouts -- some of our worst nightmares as women!
You can up your intake of good bacterias by eating fermented foods like yogurt, pickles, and sauerkraut. However, taking a daily supplement is much easier and much more efficient.
How Probiotics Affect Vaginal Health
So how do these good bacteria pertain to your vagina? Well, for starters, your vagina is very similar to your gut in that it houses a lot of good bacteria. Your female parts naturally contain a delicate balance between bacteria and yeast in order to maintain its normal acidic range and pH levels.
Your body relies on the presence of good bacteria in your vagina to help fight against the bad bacterias that can be introduced through things like intercourse, hormonal changes, and feminine hygiene products. When there are too many of the bad bacterias in your vagina, it upsets your ecosystem, so to speak. And when this happens, the result is a yeast infection or bacterial vaginosis (cue the collective sigh for every woman, everywhere).
The good news is that there is a solution -- this is where a probiotic specifically designated for vaginal health comes in handy by helping to restore that much-needed balance.
There are tons of probiotics out there on the market, however, for issues concerning the vagina, in particular, it's important that you choose one with lactobacilli or lactobacillus acidophilus.
We did all the digging and dirty work for you, bringing you the best choice on the market, in our professional opinion.
Enter Private Party™ From HUM Nutrition
According to its website, "Private Party™ was developed as a total approach to women's wellness by combining actives and cultures that support both vaginal and urinary tract health."
Here at Fit Healthy Momma, we absolutely love that this brand is dedicated to providing clean, natural, and clinically proven supplements to women all over. Their supplements are custom-tailored to solve some of our most specific problems, like chronic yeast infections.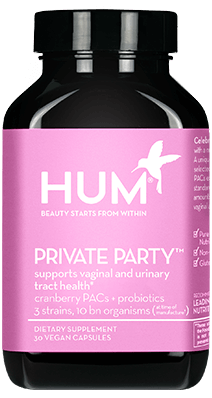 Private Party Vaginal Health Probiotic
from:
HUM Nutrition
How Private Party Works
HUM Nutrition wants you to celebrate your private parts, not be ashamed or embarrassed by them! They use a unique, completely natural formula to help balance your vaginal microbiome.
They carefully and scientifically selected probiotic strains and PACs taken from cranberry to create the optimal, clinically proven amounts to be used for vaginal and urinary tract health. They discovered that your vaginal flora is able to achieve the best support with the addition of three ultra-specific probiotic strains -- so that's exactly what they used to create this cutting-edge supplement.
Why Choose HUM Nutrition?
If you've been following along with Fit Healthy Momma for long then you know that we LOVE featuring brands and products that we love and know that other women will love, too. Here's why HUM Nutrition is the real deal:
Premium quality products
Extensively researched and clinically proven
Non-GMO
Gluten-free
Sustainably sourced
Pure and potent formula
Affordable pricing
FREE shipping on orders over $50
You can even take their 3-minute look and feel great quiz to help find the perfect products for you! Seriously, check this out -- they have a full line of amazing products that promote good health from the inside out.
Real HUM Nutrition Private Party Reviews
"I got this to see if it would help with the UTIs I seem to get because my anxiety results in constantly needing to pee (but I sometimes can't go because of work!). I thought this might help, I'd managed to give myself several bacterial infections from not peeing every 30 minutes -- and lo and behold, not only did it help with that, but my period this last month (after a month of us) was not only on time, it was less crampy, less PMSy, and "nicer" than a normal period. High recommend."
"I was struggling with yeast infections. About 6 months ago I started taking a different probiotic to help. It made a big difference but didn't 100% stop the problem. Then I switched to Private Party. I haven't had a yeast infection since, or any discomfort in that region. I'm very, very pleased."
"I've struggled with vaginal odor for quite some time. I've tried just about everything natural and ashamed to say even unnatural just to normalize this odor. . I am a sexual individual and vaginal odor is embarrassing, so needless to say I couldn't explore with my partner as I would like to because of this smell. I read about Hum products and I'm on day 5 and I am beyond grateful. Best seller indeed!"
Probiotics for Vaginal Health FAQs
If this is your first time trying or even hearing of probiotics for the health of your vagina, you probably have a few questions. We'll address the most frequently asked ones here:
Q: Are these considered the best probiotic for yeast infection?
A: Yes! Yeast infections are caused when there's an imbalance in the bacteria in your vagina. By introducing more of the good bacterias that are naturally found in there, you're able to effectively neutralize the bad bacteria and ward off those pesky yeast infections?
Q: Can you put probiotics in your vagina?
A: Yes, there is such a thing as vaginal suppositories, however, HUM Nutrition offers their supplement in capsule form, intended to be taken orally. If you prefer a suppository, you're best advised to speak with your doctor for a recommendation.
Q: What are the best probiotics for BV (Bacterial Vaginosis)?
A: If you're suffering from bacterial vaginosis, you want relief from your symptoms sooner rather than later (we get that!). Similar to the way that vaginal probiotics help fight against yeast infections, they also help prevent and cure BV by balancing your bacteria and microbiome.
Q: Can probiotics help with vaginal odor?
A: Yes! Vaginal odor is most commonly the result of an imbalance of good and bad bacteria in your vagina, with the bad bacteria winning out. When you introduce more of the good yeast and bacteria, like the ones found in HUM Private Party, you're able to effectively neutralize your system and eliminate unpleasant and embarrassing odors.
Final Thoughts on Probiotics for Vaginal Health
Women deal with their fair share of body issues, but we don't need to suffer from vaginal issues that can keep us feeling uncomfortable, embarrassed, and unwillingly to live life to the fullest.
We give major kudos to the team at HUM Nutrition for creating such a highly-specified product that's engineered to better women's health.
Give this supplement a try and let us know your opinion! We love hearing feedback on the products we recommend to our followers. Stay healthy, ladies!
Private Party Vaginal Health Probiotic - $25.00

HUM Private Party Probiotic helps maintain yeast balance and promotes a healthy vaginal pH. It also contains 36 mg of Cranberry PACs to support urinary tract health.
Don't forget to click on the product or button below and then enter code "HUM10" and be sure to check out their full line of clean, natural health supplements for women!
Get Your

Free Guide

to Vaginal Health eBook!
Sign up to get your free eBook & guide to a healthy vagina sent straight to your inbox.