Fish oil pills, omega 3 supplements, no matter what you call them, this supplement has been linked to tons of amazing benefits for our health. The problem is, there are so many different varieties out there that it can feel confusing trying to choose the right variation for you.
Luckily, we've done all the digging and dirty work to bring you the top Omega 3 Fish Oil supplements based on a variety of different factors. We read through countless reviews, tried some for ourselves, and did a ton of research so that we could bring you the best, most comprehensive guide to choosing the right supplement for you.
We'll dive right into our findings but we also include complete information and buying guide below, so be sure to stick around to learn more about this supplement, its various forms, and its benefits.
Top 5 Best Omega 3 Supplements for 2020
There are so many of these supplements out there that it's mind-boggling. Rather than waste your time and energy, giving you a long list of options, we chose the top 5 and brought them to you here.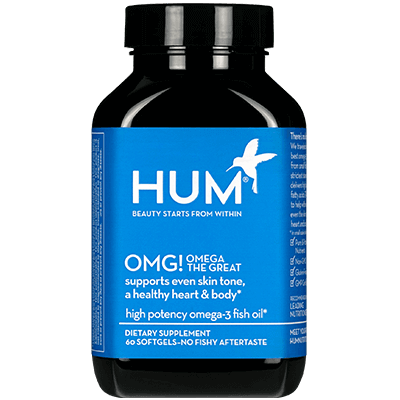 OMG! Omega the Great Ultra Pure Fish Oil - $30.00
Ultra pure fish oil with the ideal ratio of the actives EPA and DHA and no fishy aftertaste. HUM OMG supplements are derived from the highest quality of sustainably sourced small fish, ensuring the purest and most nutrient-rich standards. Take care of your health by making HUM vitamins a ritual.
If you're familiar with Fit Healthy Momma, then you may have noticed by now that HUM Nutrition gets a lot of attention from us - and there's a good reason why. It's one of the best supplement brands for women. Their Omega The Great fish oil supplement is hands down one of the best we've seen. It contains only 100% natural, sustainably sourced ingredients and there is zero fishy aftertaste. This is the one I use daily as part of my supplement regimen and I swear by it.
This supplement form Arazo Nutrition has nearly 5,000 positive reviews on Amazon, which should certainly make you take notice. These are made from 100$ ocean wild fish using a special extraction method to achieve the highest volume of EPA and DHA. These have a great natural lemon flavor and promise to be burpless aka no more fishy burps ruining your day! They are also free of any heavy metals, mercury, or other toxins.
If you're looking to add fish oil to your daily vitamin regime without spending an arm and a leg, this option from Nature Made is an excellent choice. You can get a 125 day supply for less than $20! This blend is purified to remove any toxins and is made from wild-caught ocean fish.
If having extremely high-quality Omega 3 is at the top of your priority list, this blend from MAV Nutrition is worth a look. MAV claims that the fish oil in their formula is of a higher quality than any of their competitors, and judging by the thousands of outstanding reviews, it appears that fish oil users agree. This supplement is 100% natural and completely free of additives. It's also purified with molecular distillation, which is one of the best ways to remove heavy metals, PCB's and other toxins from the supplement.
This next supplement is an all-around, well-balanced choice. This blend is a little pricier than the others on the list, however, it's a high-quality blend that's worth the little extra. We love that Nordic Naturals paid special attention to the absorption level with their supplement, allowing you to achieve maximum results and benefits. It's sustainably sourced from wild-caught fish. Additionally, these use a subtle lemon taste that eliminates any fishy smell or aftertaste.
Omega 3 Supplements: Your Ultimate Buying Guide
You've likely heard of omega 3 or fish oil before, and maybe you know that it's good for heart health, but there's so much more to this supplement. As with any supplement you're thinking of taking, we think it's important to know everything about it so that you can make the most informed buying decision.
Below, we're walking you through everything you need to know about this supplement and how it can benefit your body and overall health. Of course, we always recommend that you consult with your doctor before starting any new vitamins or supplements to make sure that it's safe for you.
What is Omega 3?
First and foremost, what is this supplement? Omega 3's are a group of fatty acids that play a vital role in your body and can provide you with a wealth of health benefits. Our bodies do not naturally produce these on their own, so we need to rely on our diet to get them.
The three most important types are ALA, DHA, and EPA. ALA is found mostly in plants and DHA and EPA are found in animals and algae. Foods that are high in Omega-3 include fish, fish oils, flax seeds, chia seeds, and walnuts.
Why Take This Supplement?
There have been tons of benefits linked to taking this supplement, particularly from EPA and DHA. Here's a rundown of some of the most important benefits:
Inflammation
Many studies have proven that EPA and DHA can reduce inflammation in the body. Inflammation is linked to all kinds of negative conditions such as arthritis, heart disease, diabetes, and cancer. Additionally, those of us who tend to work out a lot experience more exercise-induced inflammation following workouts. Taking Omega-3's following a workout has been proven to help reduce that inflammation.
Mental and Emotional Health
There's evidence showing that higher levels of Omega-3's can lead to a reduced risk of Alzheimer's disease and also improve mental cognition among those who already suffer from mental or cognitive issues. Furthermore, the anti-inflammatory effects can also play a role in treating depression and other mental illnesses.
Heart Health
Strokes and heart attacks are the world's leading cause of death. This supplement has been shown to help improve heart health and prevent heart attacks and strokes by reducing triglycerides and blood pressure. Additionally, they can increase the good cholesterol in our bodies and also help prevent blood clots.
Healthy Pregnancies
As a momma, this is a big one for me. Omega-3s are imperative for brain growth and development in babies. Baby formulas today are extra fortified with DHA to help assist with brain development and eyesight. Also, consuming enough DHA during pregnancy gives your baby a wealth of benefits before they are even born. In fact, there have been studies that have shown that babies who ample DHA benefit from the following:
Increased intelligence
Better communication and social skills
Less behavioral problems
Decreased risk of developmental delays, ADHD, and Autism
How Much Should You Take?
Most major health experts agree that adults need a minimum of 250-500 mg each day of combined EPA and DHA. For those with certain conditions, they may be advised to take more.
What Are the Best Sources?
Aside from taking a supplement, you can get the Omega-3s you need from fish and algae, although it would be difficult to get it from algae alone. Fish eat enough algae that we can get the benefits right from them. Here are some of the fish with the highest concentrations of Omega-3:
Mackerel
Salmon
Herring
Anchovies
Sardines
Oysters
Halibut
Caviar
You can also get these nutrients from vegan sources like walnuts, chia seeds, and flax seeds, however, you would have to consume extremely large quantities to realize the same benefits as taking one of the fish oil supplements we listed above or by eating fish regularly.
Final Thoughts
There you have it, the top five omega-3 supplements as chosen by our team based on extensive research as well as personal experiences. All of the choices on our list give you the right amount of these beneficial fatty acids without having to eat fish (if that's not your thing) and without the fishy smell and aftertaste that may have turned you off this kind of supplement in the past. So, go ahead and choose one to start realizing the benefits for yourself!