Hair, skin, and nails - arguably three of the most important components of a woman's look, feel, and self-esteem.

Personally, I have gone through several seasons where one or all of these have been out of whack and I can tell you firsthand that my self-esteem plummeted.
I'm not saying that we should base our opinion of ourselves on what we look like, but I would be lying if I said that it doesn't play a role...and I can't be the only woman out there that feels that way.
For example, after having my first child, my face broke out. Like bad. I have always been really blessed with relatively blemish-free skin, so when I was all the sudden covered in pimples, I was mortified. I know that pregnancy and childbirth can wreak havoc on your hormones, so I was very gentle with myself, but I was still unhappy with the way my face looked.

Or, how about the time last year when I went to the hair salon to get a cute, shoulder-length bob and came home with hair that barely hit my chin? Despite all the positive self-talk, I did and my family's insistence that it looked great, I cried for weeks.

So how did I overcome these tough seasons? I gave myself a lot of grace and I started looking for the best hair skin and nails supplements to help bolster my body and my spirits.

A little over a year ago, I discovered Hum Nutrition. Their line of supplements caught my eye and their price tag was within my budget so I gave them a try, purchasing their Hair Sweet Hair gummies to help my hair grow back after the hair cut from hell I received.

I fell in love with their gummies and have since been a loyal user of their supplements. They take a different approach to hair skin and nail supplements than most other manufacturers which I love! They created a separate supplement for each area, not just a blanket supplement. Their approach to women's health and wellness is highly targeted and definitely not something you see from too many other brands.
Why Choose Hum Nutrition?
If your hair, skin, or nails could use some TLC, there are a lot of options out there for you. In fact, there are so many so that it can easily feel overwhelming to find the right one, and who wants to waste money on supplements that don't work? Not I.

The team at Fit Healthy Momma is committed to bringing our readers the best of the best, which is why you'll hear us talking about HUM Nutrition a lot #sorrynotsorry. It's good stuff, ladies. Here are just a few reasons why we love HUM:
We also love that they have a 3-minute Look and Feel Great quiz on their website that helps match you with the supplements that will best improve your life and alleviate any issues you may be experiencing. It's really informative!
Click the box above and use the code HUM10 at checkout to get $10 off your first order!
Hair Sweet Hair
As I mentioned, HUM Nutrition takes a slightly different approach to treating your hair, skin, and nails in that they created a specific formula for each area. For hair strength and growth, they have their Hair Sweet Hair supplement - this is what I took (and still take) to help my hair re-grow from last year's unwanted chop.

I can tell you that I have seen such a difference in my hair over the last 12 months or so. Not only is it longer, but it's so shiny and healthy-looking, too. I've had several people ask me what products I'm using on my hair to get this glow, and I'm always happy to say nothing, it's my vitamins!

This formula is specifically designed to grow and strengthen your hair, here are some quick facts: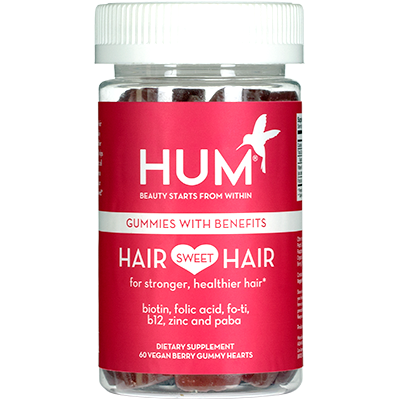 Hair Sweet Hair Vitamin Gummies - $25.00
Vegan hair growth gummy vitamins for healthy hair. Hair Sweet Hair gummies are formulated with a unique combination of clinically proven ingredients for healthy hair growth including: biotin, zinc, PABA, folic acid, and fo-ti. It nourishes hair from the inside out to help improve thickness and regrowth. HUM hair vitamin gummies are vegan with no-gelatin, no-gluten, no-soy, and all-natural.
Killer Nails
When it comes to the health and strength of your nails, Biotin is where it's at. Of course, you can grab a bottle of Biotin from just about anywhere, but we're particularly fond of Killer Nails from HUM Nutrition. Here's why:
I added this supplement to my vitamin regime about 6 months ago and my nails are strong, hard, and grow like crazy. In fact, I find myself clipping them way more often than I ever used to.
Glow Sweet Glow
Ok, I'll be the first to admit that skin care was not a priortity of mine for a long time, like for too long. It wasn't until I entered my 30's that I started to pay attention to my skin. I realized that my skin was dry, starting to wrinkle, and generally lacking that youthful glow that I once had.
As a young 30-something momma, I wasn't ready to throw in the towel on my skin and accept a lackluster glow as part of the aging process. Again, I looked to HUM Nutrition's formula, not expecting much, but willing to give it a go. I can honestly say that their Glow Sweet Glow gummies work! Here's why:
For someone who went into this supplement as a skeptic, I'm happy to say that I have seen a major improvement in my skin's look and feel. I took these all throughout this past winter when my skin is usually as dry as the Sahara and I for sure noticed a difference.
Have you ever gotten out of the shower and felt that dry, pulling, cracking feeling that your skin gets when it's so dehydrated? That feeling that can only be quelled with a good application of a high-quality moisturizer? I hardly ever get that feeling now that I'm taking Glow Sweet Glow - major win!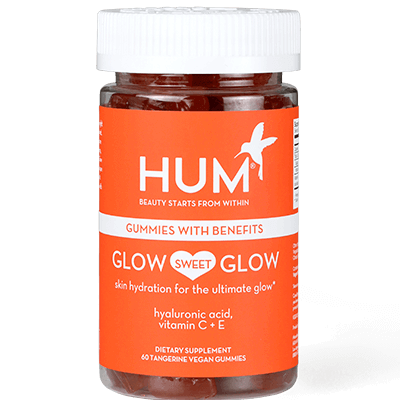 Glow Sweet Glow Beauty Gummies - $25.00
Hyaluronic acid vegan beauty gummy vitamins for glowing, hydrated skin. Contains with low molecular hyaluronic acid and vitamin E to help keep moisture locked into skin and help stimulate collagen production and is a vegan collagen booster. Non-GMO, Soy-Free, Gluten-Free All-Natural skin vitamin gummies for undeniable beauty and flawless skin. 30-day supply
Supplements for Hair Skin and Nails FAQs
Just like you, I had questions before I went ahead and purchased supplements. In an effort to help you get your questions answered before you buy, here are some FAQs:
Q: Do I need to buy all three supplements?

A: No! This is one of the reasons why we love HUM Nutrition. They don't make one supplement that claims to do it all. They have three separate formulas that are specifically engineered to target your problem area. So if your nails are bomb and your skin is dewy, but your hair is brittle and in need of some rehab, you can get just the hair supplement. I personally take all three as part of my daily vitamin ritual, but the choice is yours.

Q: Do hair skin and nails supplements really work?

A: Yes, all of the supplements we use from HUM Nutrition are clinically tested and proven to be effective. And we can personally tell you that they worked for us. Of course, everyone has different circumstances and situations, but in general, the claims made by HUM are accurate. You can even take a look at their hundreds of testimonials for further proof.

Q: Are there any side effects to taking these supplements?

A: Each of these vitamins is generally well-tolerated and has little to no side effects. Some people find that taking vitamins with food is better than on an empty stomach. I, for example, take my vitamins after my morning meal. Ask your doctor before you begin any supplement regime to be sure it's safe for you and your specific circumstances.

Q: Does HUM Nutrition offer a discount code?

A: Yes, they do! We're happy to collaborate with HUM and be able to offer you a $10-off discount on your order. All you need to do is follow this link and enter code HUM10 at checkout. They also offer a discount when you purchase any three supplements, you save 15%. This is perfect if you want to try all three of these supplements, you can save majorly and benefit from free shipping, too!

Q: How long until I get results?

A: If you're dealing with weak, brittle hair or nails, or you're trying to grow out those awful bangs, I know that you'd like for there to be a quick fix. The truth is, it takes time. You aren't going to go from a pixie cut to mermaid hair overnight, however, these vitamins will give you the best shot possible at speeding up the process. With the addition of these vital nutrients in your body, the time it takes to regain the health of your hair, skin, and nails will be expedited. That said, you should notice a difference after 2-3 weeks of regular usage.
Wrapping Up
There is so much at play when it comes to the health and look of our hair, skin, and nails. I'll bet that most any woman can attest to the fact that they've had to deal with some kind of hormonal fluctuations and that these are three areas that tend to suffer when things get out of whack, so to speak.

While we can't always control our hormones, we can control how we react and try to correct any imbalances. By taking the best hair skin and nails supplements you can find, you're increasing your chances of actually seeing real results.

HUM Nutrition is a brand that offers complete natural women's supplement solutions and we're proud to not only use them ourselves, but to share them with our readers. Have you tried HUM Nutrition? What are your thoughts? We'd love to hear from you!